Welcome to RCModels.com!
Welcome to the magical world of RCModels.com, where imagination reigns supreme! We're here to ignite that spark of fun in both young minds and those young at heart. From models meticulously designed with precision for enthusiasts who value intricate details, to durable toys loaded with lively adventure for kids seeking thrilling exploits – we cater to all tastes. Not only are our items extensively tested for quality assurance, but they also come imbued with potential hours of excitement-filled exploration. Whether you crave adrenaline rushes from hawk-like RC helicopters zipping through the blue yonder or prefer peaceful engagement by maneuvering miniature boats across tranquil waters, our diverse offerings ensure a memorable experience catering specifically to your unique preferences. Join us on this electrifying journey – it's time you experienced joy unhindered by any remote control!
Chris Beach – Founder of RCModels.com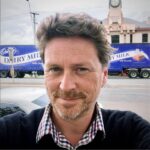 Hi, I'm Chris, the founder of RCModels.com. When I'm not running this site, I'm the Chief Book Worm at Books.org, and I'm a board member at the International Space Association. My other interests include software development, electronics (especially vintage computing) and astronomy. You can also find me on Twitter and LinkedIn.